Grand Canyon Hot Air Balloon Flights
Taking a hot air balloon ride over the Grand Canyon in Arizona is a dream shared by many people. In reality, there are far fewer people who have accomplished this incredible balloon flight than there are astronauts who have been to space. Owner of Apex Balloons, Jon Radowski, has flown across the Grand Canyon by hot air balloon numerous times, and proudly offers exclusive private charter adventure hot air balloon flights across the Grand Canyon. This is not your average hot air balloon ride!


15,000 feet above the South Rim of the Grand Canyon in a hot air balloon on 10/16/2015
Arguably the most famous national monument in the United States, and one of the most scenic locations in the world, the Grand Canyon offers a backdrop for what is certainly the most incredible and most exclusive hot air balloon flight ever offered to the public.
Apex Balloons offers private charter hot air balloon flights over the Grand Canyon from October through March. Weather conditions must be ideal, and passengers must have a flexible schedule. It is not a "daily" flight - it is a special expedition that requires a significant amount of planning and specific weather conditions in order to accomplish.
Note: Others may claim to offer balloon flights at the Grand Canyon, but nobody else actually flies anywhere remotely nearby. The only regularly-scheduled (daily) balloon flights happen near Sedona (80 miles away), or Phoenix (150 miles away - where Apex Balloons normally flies). Again, our Grand Canyon balloon flights are a "special order" adventure experience worthy of the extreme price tag (see rates below).
The Grand Canyon Balloon Experience
Our Grand Canyon hot air balloon flights launch at approximately sunrise from a location chosen the evening prior which will allow us to traverse the widest part of the Canyon. We will be thousands of feet up in the air as the sun rises above the horizon, with the best seat in the world to witness the majestic Grand Canyon awakening with the warm hues after daybreak. Each minute brings a dramatic change of scenery as the rising sun paints the canyon walls with ever-changing color. It is a natural show of beauty beyond description.
Once in flight, our destination is somewhat of an unknown - it truly is an adventure, as we don't know exactly where we will land until we get there! We plan our flights to cross over the widest part of the Grand Canyon, from the South Rim to the north or northeast, or from the North Rim to the south or southeast. Our distance traveled can vary from 50 to 200 miles or more, depending on wind speed, weather conditions, and landing site suitability. Time in the air may range from two to six hours.

Our height will range from just above the desert, to just beneath the maximum permitted altitude of 18,000 feet above sea level. Our average flying altitude while crossing the Grand Canyon will be between 15,000 and 18,000 feet above sea level due to minimum altitude requirements and special airspace. Above 15,000 feet, supplemental breathing oxygen is available for all passengers, as required by regulations. Your pilot will be breathing supplemental oxygen throughout the flight to stay safe, smart and in accordance with all Federal Aviation Regulations.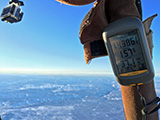 Passenger Preparedness
Due to the duration of time in flight, altitudes reached, and possible "extreme" (bumpy) landing conditions, this flight is not for everyone. You must be in good physical condition, able to stand for the duration of the flight, and must be able to walk or hike a reasonable distance (at least a few miles). Although we make every effort to land in an easily accessible location, our landing site may be off the beaten path and our balloon flight can very well turn into a wilderness hiking expedition after landing.
Dress for all temperatures to be expected for the day, and wear multiple layers. It may be extremely cold before sunrise, and will warm up gradually during the flight. A winter hat is highly recommended. Sunscreen and sunglasses are recommended. Sturdy hiking boots are a must, and insulated wool socks are highly recommended.
The balloon burners give off quite a bit of heat intermittently. There is almost zero wind chill at cruising altitude, since we are traveling exactly at the same speed as the wind. Because of this, it can get quite warm in the basket on a sunny (but otherwise cold) day.
We will have plenty of drinking water and light snacks for everyone on board. Passengers are welcome and encouraged to bring personal food/drink items in a soft cooler. Alcohol and drugs are not permitted on board.
Flight Schedule
Apex Balloons offers Grand Canyon hot air balloon flights in the late fall, winter, and early spring months only, from October through March. Due to specific weather requirements, Grand Canyon balloon rides are not offered on a regular schedule. This means tourists visiting for a short period of time will probably not necessarily experience an available flight window during their stay in Arizona or Nevada. We advise those who are interested in flying with us to coordinate with us as we watch for upcoming weather windows, and then to make last-minute travel arrangements to meet us in Phoenix when a flight window is confirmed to be ideal for a crossing.
Weather conditions must be conducive to a flight, so it is necessary for passengers to be flexible on dates. Reservations are best handled on standby basis - those who are interested in flying will be placed on a standby list and notified when the next upcoming flight window will occur. Possible weather windows can usually be forecasted with a high degree of accuracy within 36-72 hours of the morning of the flight.
Weather windows are generally open when the ground winds are very calm and winds aloft are blowing from the south or north at significant speeds. Ideal conditions are significant wind speeds aloft (30-50+ miles per hour at 15,000+ feet) and calm winds at ground level (less than 6 mph) forecast until at least noon. These conditions allow us to have a gentle launch, while maintaining high speed at cruising altitudes in order to make the Grand Canyon crossing and reach suitable landing areas on the other side.
Landings are usually "far more lively" than the takeoff, due to the tendency for surface wind speeds to increase later in the morning. The landings can sometimes be quite a thrill ride! Bumping and dragging to a stop, with all on board laughing hysterically at the utterly unique and awe-inspiring experience they've just shared, is a typical conclusion to a Grand Canyon balloon ride adventure. Occasionally we will have feather-soft "standup" landings, but these are not to be expected every time.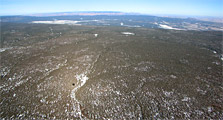 An Exclusive Experience
A Grand Canyon hot air balloon flight is certainly far more exclusive and expensive than a helicopter or airplane tour. There are good reasons.
Helicopter or airplane tours are noisy, bumpy, and confined. There is sometimes considerable turbulence involved - motion sickness included. You can't buy silence on an airplane or helicopter tour for any amount of money, and you certainly can't open a window and stick your head and camera out the zooming aircraft to get a better look or clearer photo.
On a balloon flight, it is nearly perfectly quiet in between blasts of heat. The basket of a balloon offers an unobstructed view and you are more than welcome to peer over the side, look straight down, hang your camera over the edge, or move around the basket to get the best view possible from any side. Every passenger has a limitless "window seat" with crisp, fresh air to accompany it!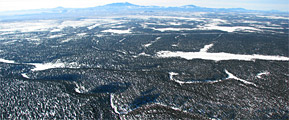 One of the more unique features of our Grand Canyon hot air balloon flights is the fact that we are not restricted by the 5PM-9AM curfew that airplane and helicopter air tour operators must abide by. We are able to launch at dawn and experience the Grand Canyon in the most prime sunrise hours, avoiding much of the noise and traffic of the helicopter and airplane tour operators which start buzzing over the canyon at 9AM sharp.
The vast majesty of this wonderful national treasure can be more appropriately experienced and appreciated through the peaceful silence of a hot air balloon flight. It's a most serene, incredible experience that very few people in the world have ever had the pleasure of being a part of. We're thrilled to offer this incredibly unique adventure, and at the same time, we're still a little bit amazed that we really do this!
We look forward to sharing a truly remarkable experience with you.


Jon Radowski, Owner & Chief Pilot
How Do We Get There?
Phoenix Sky Harbor International Airport (PHX) is an ideal arrival destination via commercial airline service. For those flying privately into Phoenix, Deer Valley Airport (KDVT) or Scottsdale Airpark (KSDL) are excellent smaller fields at which to arrive in style.
Apex Balloons is based in Phoenix, Arizona near Deer Valley Airport and we can pick up your group from any local airport, help you run last-minute errands, find local dining, and then depart for our launch staging area the afternoon/evening prior to the flight morning. After the flight we can bring you back to Phoenix.
If you'll have a rental car of your own, it may be more advantageous to meet us closer to the Grand Canyon area the evening prior to your morning flight (at a location to be determined based on the prevailing winds). After landing, we can then return to your vehicle and you will be free to continue your adventure onward without having to travel directly back to Phoenix with us.
On the evening before the flight, we will stay in a local hotel or motel so we only have a short commute to the chosen launch site in the morning. For flights launching from near the South Rim, we will usually stay in Tusayan or Grand Canyon Village. For flights with a North to South trajectory, we may stay in Page AZ, Marble Canyon AZ, or Kanab, Utah. You'll have total choice of accommodations, and they will be in addition to the cost of the flight.
Rates & Terms
Current rates are shown below. A $1000 deposit is required to reserve a flight date / standby window. If we can't fly due to any reason beyond your control (uncooperative weather, etc.), a 100% refund of the deposit will be given. After a decision to fly has been made (usually within 24-36 hours of the launch time), payment of the remaining balance via certified funds, bank transfer, or cash is required.
Our Grand Canyon balloon flight record so far is 100% successful after a decision to fly has been made. This is due to our careful planning for all possible contingincies, meticulous weather forecasting, and attention to detail. However, we are human, not perfect, and any of a number of unforeseen reasons could potentially keep us grounded even after a decision to fly has been made. If we make a decision to fly and then must cancel the flight due to circumstances beyond your control, a refund of the total will be given.
| | |
| --- | --- |
| Number of Passengers | Total Price |
| Private Flight for up to 8 | $36,000 |
| Private Flight for up to 6 | $32,000 |
| Private Flight for up to 4 | $28,000 |
| Private Flight for 2 | $24,000 |
Contact Us
Phone:
1-877-9-HOT-AIR
(1-877-946-8247)
Email: